A clean, well-decorated bathroom is a tranquil sanctuary for rejuvenation and self-care. Each day we use this important space to meet the world. Instead of offering the standard bathroom accessories that you could use to keep your bathroom clutter free (e.g., shower caddies, wire baskets, toilet paper stands, etc), let's look at some creative options to organize your bathroom.
---
Bath Products
This curtain features built-in storage components, including four self-draining pockets (which can hold up to 8 regular-sized bottles) and two loops to accommodate various sizes of razors and toothbrushes. For added convenience the outside of the curtain is fitted with towel loops at each edge. The curtain is also machine-washable and water-repellant.
---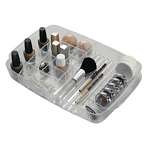 Makeup
You can use either a tray designed specifically for makeup or just buy a kitchen utensils drawer tray to neatly store your makeup. Keep it on your counter or pull it out of its designated drawer when you're ready to apply makeup.
---
Towels
If you're like me and have a black thumb, but love the texture and warmth that garden planters bring to a room, consider using one in your bathroom to store rolled towels.
---
Cleaning Products
Since house cleaning is one of the more unpleasant chores to complete, having all of your cleaning supplies in one place is essential. The handle on this organizer makes it easy to carry from room to room.
---
Hair Products
If you use as many different brushes, combs, and hair products as I do you'll understand why I love this product. This shower tote has space for all those things, plus ample room for your hair dryer.
---
Soap & Lotion
Soap and lotion stored together…Oh my! This one features two chambers – one for your lotion and one for your soap. I love this thing. Depending on the color of your hand soap, you'll get some cool-looking effects. Just make sure you remember which one is the lotion.
---
Toilet Paper
One of the most embarrassing situations ever is to be at a friend's house and realize too late that they are out of toilet paper. You don't want to be that person who is rummaging through their cabinets looking for more (and quietly praying that nothing breaks, crashes, or slams in the process). Make it less stressful on your guests by having the toilet paper visible and close by. A tall, clear vase is the perfect solution. Your guests will thank you.